Here at Peninsula Orthodontics we place great importance on getting involved in the community and promoting healthy oral hygiene habits. We have a team of qualified Oral Health Therapists who are dedicated to educating children in oral health care. Through our community outreach programs we provide classroom lessons to students in local schools and teach them all about oral health care.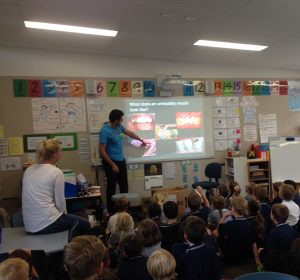 We have visited a number of schools on the Mornington Peninsula and this year we have already reached over 700 students. Most recently, our Oral Health Therapists and Assistants visited St Macartans Primary School in Mornington. The Grade 3s and 4s were educated about the benefits of a healthy lifestyle in accordance with their teeth and diet. Also discussed were dental growth and development and dental trauma prevention. The sessions were fun and interactive and, as always, we loved all the questions that the kids had for us.
If you think your school might be interested in these complimentary incursions, don't hesitate to contact Sallie on 59755166 and we can send all the relevant information through to your school and organise a suitable time with you.